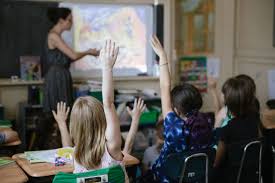 Yes we come to your kids school before or after the bell!
Our ready to go 10 week art history curriculum offers students a broad range range of materials, art practices and craft projects.
Students start each session with a VTS discussion about 3 works of art from different artists and periods.
They make their own work inspired by this and record their discoveries in their personal Take a Closer Look at Art Kits. We encourage students to take these home and share with family and friends to keep the conversation going.
VTS – VISUAL THINKING STRATEGIES
Visual Thinking Strategies (VTS) is a method initiated by teacher-facilitated discussions of art images and documented to have a cascading positive effect on both teachers and students. It is perhaps the simplest way in which teachers and schools can provide students with key behaviors sought by Common Core Standards: thinking skills that become habitual and transfer from lesson to lesson, oral and written language literacy, visual literacy, and collaborative interactions among peers.
VTS provides a way to jumpstart a process of learning to think deeply applicable in most subjects from poetry to math, science and social studies. Art is the essential first discussion topic because it enables students to use existing visual and cognitive skills to develop confidence and experience, learning to use what they already know to figure out what they don't; they are then prepared to explore other complex subject matter alone and with peers.
Through VTS' rigorous group 'problem-solving' process, students cultivate a willingness and ability to present their own ideas, while respecting and learning from the perspectives of their peers. Engaged by contributing observations and ideas, the students participate in VTS-based lessons in ways they often don't in others. VTS is a curriculum for schools; as a method of discussion, it is used in many art museums.
Experience with VTS produces growth in all students, from challenged and non-English language learners to high achievers. In addition, teachers enjoy the process and benefit from a new approach that reaches all students and is useful across their practice
Current school partners include:
Harmony Montessori, Tiburon, Bel Aire Middle School, Tiburon.