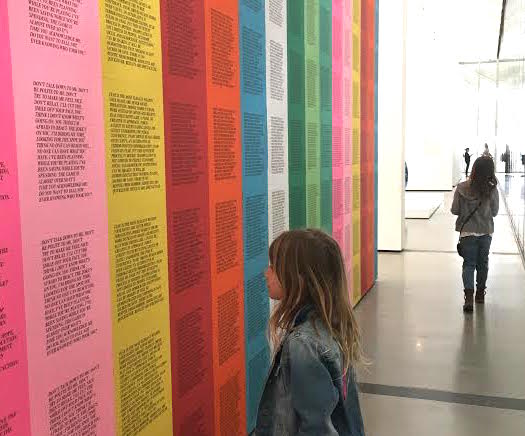 Explore art, learn about the world and each other
A Little Culture aims to give busy parents, who love travel and culture, the tools to share and expand these experiences with their children.
Our team of developers, illustrators, broadcasters and artists create unique experiences and products that are designed to expand and extend these experiences for families. Recent collaborations include the Asian Art Museum, For-Site Foundation and Headlands Center for the Arts.
Our interconnected offering of classes, museum and gallery tours, parent workshops, and interactive products empower everyone in the family with the props and tools they need to become an art expert; who knows what they like and how to explain why they like it.
What we do builds creative expression, critical thinking and communication skills in individuals and a deeper sense of community as you learn to work together to make meaning from art as a group.
What we offer:
Discover with Me Classes
For carers and children aged 2-5 years. A fun-filled 10 week curriculum of VTS + making that follows the story of art.
Art Adventures
For children aged 7+ VTS and making classes that follow the story of art.
Look Closer at Art
For creative 6-9th graders looking to expand critical thinking, create and communicate with art.
Museum Tours for Kids
Fun, drop off tours for children aged 7+ SFMoma, Legion of Honor, deYoung, Asian Art Museum.
Take a Closer Look at Art Kit
A family activity kit that supports your art adventures and making happy memories!
Art Hack Party
A creative reboot for adults that connects and inspires people to their inner artist and each other.
Themed Private Museum Tours for Adults
Make new connections across great art on a discussion based art tour.
Summer Camp
The best bits, expanded into a week a long adventure through the story of art.
Read more about how we teach kids:
The role of a creative leader is not to have all the ideas; it's to create a culture where everyone can have ideas and feel that they're valued." Ken Robinson
We believe everyone has the potential to be Art Smart – Creative thinkers and creative doers all in one! With a little encouragement and guidance through art activities that foster collaboration, communication and creative thinking, we'll help your inner arty side shine through and guide you whenever and wherever you need it.
We're more than just another arts and craft class. Think of us like an art class mixed with healthy dollop of art history. We want to help kids and adults understand art by exploring the how and why it's made. We help unleash existing creative powers through fun hands-on art projects, whilst exploring the background of artists who inspire us. We also organize art field trips and have a range of fun art-inspired products on the go.
So how are we different?
We look at art in different ways. We won't just tell you what's what, we'll invite you to get stuck in. To explore creative problem-solving inspired by the methods of other artists and thinkers from the ancient times to today.
We do a lot of this amazing learning through the power of chat and VTS Visual Thinking Strategies. Yes, talking about art as we make it and discussing what we see as a team will help us grow as individuals. We'll work together to share our own ways of seeing and understanding the world. Age-appropriate chat is at the center of everything we do. We passionately believe in talking through ideas about the art you see and the art you make. That way you can build new vocabulary, make new connections, understand different perspectives and increase your creative thinking powers!
About VTS – Visual Thinking Strategies
Visual Thinking Strategies (VTS) is a method initiated by teacher-facilitated discussions of art images and documented to have a cascading positive effect on both teachers and students. It is perhaps the simplest way in which teachers and schools can provide students with key behaviors sought by Common Core Standards: thinking skills that become habitual and transfer from lesson to lesson, oral and written language literacy, visual literacy, and collaborative interactions among peers.
VTS provides a way to jumpstart a process of learning to think deeply applicable in most subjects from poetry to math, science and social studies. Art is the essential first discussion topic because it enables students to use existing visual and cognitive skills to develop confidence and experience, learning to use what they already know to figure out what they don't; they are then prepared to explore other complex subject matter alone and with peers.
Through VTS' rigorous group 'problem-solving' process, students cultivate a willingness and ability to present their own ideas, while respecting and learning from the perspectives of their peers. Engaged by contributing observations and ideas, the students participate in VTS-based lessons in ways they often don't in others. VTS is a curriculum for schools; as a method of discussion, it is used in many art museums.
Experience with VTS produces growth in all students, from challenged and non-English language learners to high achievers. In addition, teachers enjoy the process and benefit from a new approach that reaches all students and is useful across their practice
About the Founder: Lucie Charkin:
Lucie is an art educator, curator, writer and cultural historian. She is passionate about making art accessible to all and believes in art and culture as a way of exploring identity and civic duty. She brings this belief directly into her workshops, tours and educational products by encouraging open dialogue and moments for self-reflection whilst looking at art.
Lucie has established museums, public art organizations and art festivals around the world. She is trained in VTS and Aesthetic Developmental Theory and is a specialist in Chinese Contemporary Art. She holds MAs' in Critical Art Theory and Museum Strategy.
Lucie enjoys working with families directly as well as through special partnerships with arts organizations and educational institutions to produce unique digital content and integrated arts curriculums that reach broader audiences.